ISSN: 2580-8311 (Online)
DOI Prefix 10.30829 by Crossref
JUSPI (Jurnal Sejarah Peradaban Islam) publishes scientific articles in the fields of historical, social, and humanities. JUSPI invites academics to publish their research articles, especially historical, social, and humanities studies with Islamic themes, for example about Islamic groups or communities, Muslim minorities, culture and traditions, education, organization and politics, civilization, heritage and architecture, social change, intellectual and thought, biography, historiography, press, and literacy, as well as science and technology. The articles can be written to be submitted in Bahasa Indonesia and English. JUSPI is published by the Program Studi Sejarah Peradaban Islam (Study Program of History of Islamic Civilization), Universitas Islam Negeri Sumatera Utara. It is published twice a year in July and January.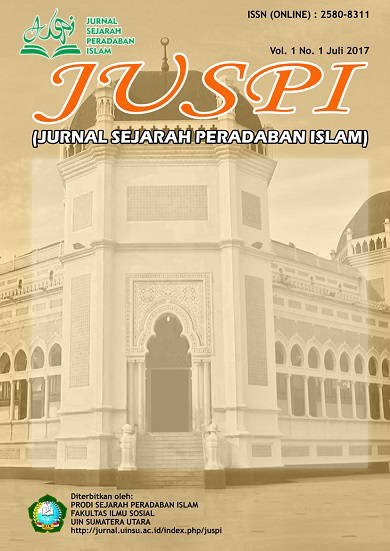 Important Notice:
The authors should submit their proposed research papers through the ONLINE SUBMISSION menu provided on this page (click here). If you do not receive a verification email from our system after successfully creating an account as the author, please contact us at jurnal.juspi@uinsu.ac.id for verification purposes.
Notification of the result of your article submission and review may appear in the SPAM of your email. Please check your email regularly.
Authors are encouraged to use a reference manager (for example Mendeley, Zotero, Endnote) to organize the references in the manuscript.
Announcements
No announcements have been published.
Vol 7, No 1 (2023)
Table of Contents
Articles
| | | |
| --- | --- | --- |
| | Ratih Rachma Kurnia, Guntur Eko Saputro, Lukman Yudho Prakoso | 1-8 |
| | | |
| --- | --- | --- |
| | Radya Cantika Suhardiman Putri, Febri Priyoyudanto | 9-20 |
| | | |
| --- | --- | --- |
| | Miftahul Fikria, Muh. Fathoni Hasyim | 36-44 |
| | | |
| --- | --- | --- |
| | Widia Munira, Nina Suryana | 45-53 |
| | | |
| --- | --- | --- |
| | Mochammad Nginwanun Likullil Mahamid, Marjoko Santoso | 82-90 |