Tentang Jurnal
JIPI (Jurnal Ilmu Perpustakaan dan Informasi) adalah jurnal akademik dalam bidang keperpustakaan dan kajian informasi yang dikelola dan diterbitkan oleh program studi Ilmu Perpustakaan Fakultas Ilmu Sosial Universitas Islam Negeri Sumatera Utara (UIN-SU) Medan. Jurnal ini membahas tentang topik-topik yang berkenaan dengan bidang ilmu perpustakaan dan informasi. Pembahasan dalam bidang-bidang tersebut dapat dipandang dalam berbagai perspektif disiplin ilmu. JIPI diterbitkan dua kali dalam setahun yaitu pada bulan Mei dan November. Disamping dalam bentuk elektronik, JIPI juga diterbitkan dalam bentuk tercetak. Sejak bulan Maret tahun 2018, JIPI terindeks di Sinta 4.
About the journal
JIPI (Jurnal Ilmu Perpustakaan dan Informasi) is the journal of Library and Information Science published by the Library and Information Science Department of Social Sciences Faculty, State Islamic University of Sumatera Utara (UIN Sumatera Utara) Medan. The journal covers all issues in librarianship and information studies. The coverage of the discussion in librarianship may be viewed from various perspectives of disciplines. JIPI is intended to be published twice a year in May and November. In addition to its electronic format, it is also published in a printed form. JIPI has been indexed in Sinta 4 since March 2018.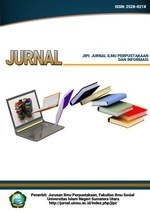 Announcements
No announcements have been published.
Vol 6, No 2 (2021)
Table of Contents
Research Articles
| | | |
| --- | --- | --- |
| | Wibisana K Ramadhan, Doddy Rusmono | 137-148 |