Tentang jurnal
JIPI: Jurnal Ilmu Perpustakaan dan Informasi adalah jurnal akademik dalam bidang keperpustakaan dan kajian informasi yang dikelola dan diterbitkan oleh program studi Ilmu Perpustakaan dan Informasi Fakultas Ilmu Sosial Universitas Islam Negeri Sumatera Utara (UIN-SU) Medan. Jurnal ini membahasa tentang topik-topik yang berkenaan dalam bidang ilmu perpustakaan dan informasi. Pembahasan dalam bidang-bidang tersebut dapat dipandang dalam berbagai perspektif disiplin ilmu. JIPI diterbitkan dua kali dalam setahun yaitu pada bulan Mei dan November. Disamping dalam bentuk elektronik, JIPI juga diterbitkan dalam bentuk tercetak. 
About the journal
JIPI: Jurnal Ilmu Perpustakaan dan Informasi is a journal of Library and Information Science published by the Library and Informtion Science Department of Social Science Faculty, State Islamic University of Sumatera Utara (UIN Sumatera Utara) Medan. The journal covers all issues in librarianship and information studies. The coverage of the discussion in librarianship may be viewed from various perspective of disciplines. JIPI is intended to be published twice a year in May and November. In addition to its electronic format, it is also published in a printed form.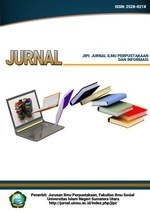 Announcements
Pelatihan Penggunaan Aplikasi Zotero dalam Penulisan Karya Ilmiah

Pelatihan penggunaan aplikasi pengelolaan referensi
Posted: 2016-05-10
More...

Call for Submission

Paper invitation

Posted: 2016-05-05
More...