Tentang Jurnal

JURNAL ansiru PAI adalah Jurnal ilmiah dalam bidang Pendidikan dan Pengembangan Profesi Guru PAI dan kajian yang dikelola dan diterbitkan oleh Program Magister (S.2) Pendidikan Agama Islam Fakultas Ilmu Tarbiyah dan Keguruan (FITK) Universitas Islam Negeri (UIN) Sumatera Utara Medan. Jurnal ini menyajikan topik-topik yang berkenaan Pengembangan Profesi Guru PAI yang didasarkan pada empat Kompetensi yaitu: Kompetensi Pedagogis, Kompetensi Kepribadian, Kompetensi Sosial, dan Kompetensi Profesional. Dialog dan pembahasannya dapat dipotret dari berbagai sudut pandang. Jurnal Ansiru PAI diterbitkan dua kali dalam setahun, yaitu pada bulan Januari –Juni dan Juli – Desember setiap tahunnya.
About the journal
JURNAL ansiru PAI is a scientific journal on Teacher Training and Development of Islamic Education. The journal is managed by Master Degree Program under the Faculty of Islamic Education and Teacher Training (FITK) of the State Islamic University of North Sumatera (UIN Sumatera Utara). This journal focuses on the discussion of teacher training and development of Islamic education on the basis of four competences: pedagogical, personal, social, and professional skills. The analysis can be viewed from various perspectives of interdisciplinary studies.  Jurnal Ansiru PAI is published twice a year: January and July.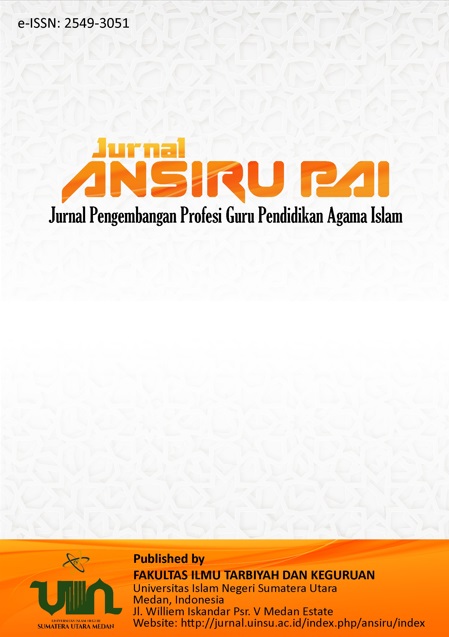 Announcements
No announcements have been published.
Vol 7, No 2 (2023): JURNAL ANSIRU PAI