The 2nd ICoSDTech 2022
ICoSDTech is aimed to become a respected international forum for scholars and professionals to discuss the recent improvement and challenges faced by the Islamic world. The conference was initiated in 2022 by Fakultas Sains dan Teknologi (FST)  Universitas Islam Negeri Sumatera Utara Medan (UINSU). It was intended to become a discussion forum to disseminate science and technology. The outcome expected in the 2nd ICoSDTech 2022 is to find the best solution and effective Sains development model and technology.
Website: http://conference.uinsu.ac.id/index.php/Icosdtech/index/schedConfs/current
Opening Speech

Prof. Dr. H. Abu Rokhmad, M.Ag

Acting Chancellor 

of Universitas Islam Negeri Sumatera Utara
Prof. Dr. Mhd. Syahnan, MA.Dean Faculty of Science and TechnologyUniversitas Islam Negeri Sumatera Utara
The Speakers
Prof. Moustafa Hussein Aly Hassan

(Alexandria University, Egypt)

Rafikha Aliana A. Raof, Ph.D

(Universiti Malaysia Perlis, Malaysia)

Dr. Agung Imaduddin, M.Eng

(Pusat Riset Material Maju (BRIN), Indonesia)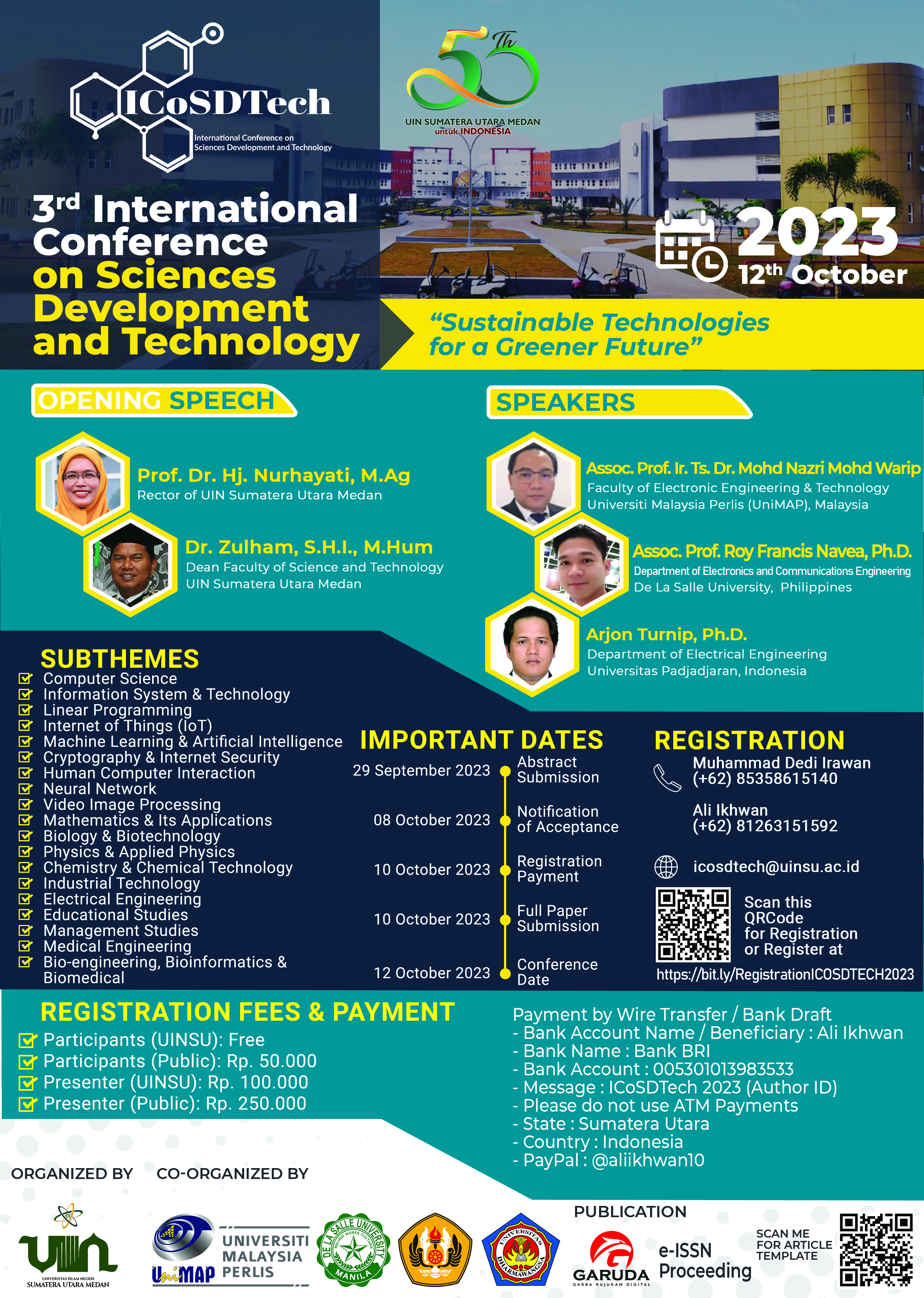 Announcements
No announcements have been published.
The 2nd ICoSDTech 2022
Table of Contents
Articles
| | | |
| --- | --- | --- |
| | Nurhajizah Nurhajizah, Fibri Rakhmawati, Sutarman Sutarman | 1-13 |
| | | |
| --- | --- | --- |
| | Bachtiar Ahmad Fani Rangkuti, Muhammad Ramadhan, Habibina Menatri, Alvira Wiabda Sari Tambunan | 14-19 |
| | | |
| --- | --- | --- |
| | Dian Eka Putra, Zainuddin Nawawi, Muhammad Irfan Jambak | 20-27 |
| | | |
| --- | --- | --- |
| | Rissa Ayustia, Jones Parlindungan Nadapdap, Hosea Hosea | 28-34 |
| | | |
| --- | --- | --- |
| | Muhammad Dedi Irawan | 46-54 |
| | | |
| --- | --- | --- |
| | Haerullah Haerullah, Fatmawati Fatmawati, Lukman Hakim, Muhlis Madani | 55-62 |
| | | |
| --- | --- | --- |
| | Aulia Rahman Harahap | 63-71 |
| | | |
| --- | --- | --- |
| | Irena Blaster, Riri Syafitri Lubis, Nenna Irsa Syahputri | 72-80 |
| | | |
| --- | --- | --- |
| | Putri Rizky Febrianti, Sajaratud Dur, Rima Aprilia | 81-87 |
| | | |
| --- | --- | --- |
| | Alfi Sapitri, Eva Diansari Marbun, Vivi Asfianti, Ulfayani Mayasari | 88-98 |
| | | |
| --- | --- | --- |
| | Chairul Rizal, Supiyandi Supiyandi, Barany Fachri, Muhammad Eka, Yusuf Ramadhan Nasution | 99-103 |
| | | |
| --- | --- | --- |
| | Supiyandi Supiyandi, Chairul Rizal, Barany Fachri, Muhammad Eka, Yusuf Ramadhan Nasution | 112-117 |
| | | |
| --- | --- | --- |
| | Yuli Suwarno, Dapit Eprizal | 118-122 |
| | | |
| --- | --- | --- |
| | Deddy Dharma Putra Situmorang, Erlina Erlina, Sirojuzilam Sirojuzilam, Rujiman Rujiman | 129-134 |
| | | |
| --- | --- | --- |
| | Ika Devi Perwitasari, Jodi Hendrawan, Nadya Andhika Putri | 135-139 |
| | | |
| --- | --- | --- |
| | Jodi Hendrawan, Ika Devi Perwitasari, Ristra Sandra Ritonga | 140-144 |
| | | |
| --- | --- | --- |
| | Ranti Eka Putri, Yanti Yusman, Yuda Wira Pratama | 145-150 |