| | |
| --- | --- |
| Journal Title | : Human Falah : Jurnal Studi Ekonomi dan Bisnis Islam |
| ISSN | : ISSN 2407-7119 (print) | ISSN 2527-6646 (online) |
| | : Dr. Andri Soemitra, MA |
| Publisher | : UIN Sumatera Utara Medan |
| Frequency | : 2 issues per year (June and December) |
|   |   |
HUMAN FALAH: Jurnal Studi Ekonomi dan Bisnis Islam, a journal is a peer-reviewed journal  on Research articles dealing with Islamic economics, Islamic banking, Islamic finance, etc. are particularly welcome. This journal is published by the Fakultas Ekonomi dan Bisnis Islam Universitas Islam Negeri Sumatera Utara, Editors welcome scholars, researchers and practitioners of education around the world to submit scholarly articles to be published through this journal. The journal encompasses research articles, original research report, reviews, short communications and scientific commentaries in Islamic economics, banking, and finance. All articles will be reviewed by experts before accepted for publication. Each author is solely responsible for the content of published articles.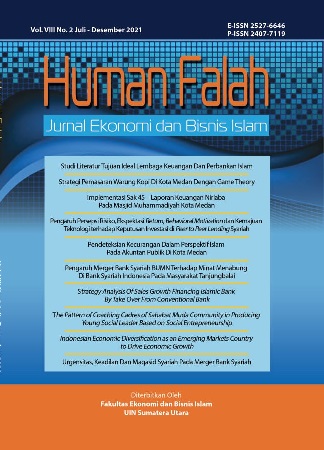 Announcements
No announcements have been published.
HUMAN FALAH: Jurnal Ekonomi Dan Bisnis Islam │ Vol. 9 │ No. 1 │ 2022
Table of Contents
Articles
| | | |
| --- | --- | --- |
| | Amin Al Jawi, Andri Soemitra | |
| | | |
| --- | --- | --- |
| | Laila M Pimada, Rizqi Bhakti Nur Sayuta, Echa Valentina Gunawan | |