A B C D E F G H I J K L M N O P Q R S T U V W X Y Z All
Kitabah (AKUNTANSI)
View Journal | Current Issue | Register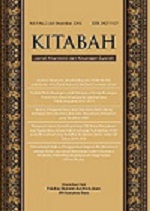 KITABAH: Jurnal Akuntansi dan Keuangan Syariah
KITABAH: Journal of Accounting and Islamic Financing, a journal is a peer-reviewed journal  on Research articles dealing with Accounting, Financing, and Islamic Financing., etc. are particularly welcome. This journal is published by the Fakultas Ekonomi dan Bisnis Islam Universitas Islam Negeri Sumatera Utara, Editors welcome scholars, researchers and practitioners of education around the world to submit scholarly articles to be published through this journal. The journal encompasses research articles, original research report, reviews, short communications and scientific commentaries in Islamic economics, banking, and finance. All articles will be reviewed by experts before accepted for publication. Each author is solely responsible for the content of published articles.
E-ISSN: 2621-5969

View Journal | Current Issue | Register
KLOROFIL: Jurnal Ilmu Biologi dan Terapan
KLOROFIL: Jurnal Ilmu Biologi dan Terapan is a journal that published by Major of biology and applied sciences, Department of Biology, Faculty of Science and Technology State Islamic University of Sumatera Utara Medan Indonesia.
KLOROFIL start published in November 2017, which is Volume 01 No. 1 2017, and  published a journal twice a year, in November and May.
The scope of Klorofil's Journal are: Microbiology, biotechnology, ethnobotany, ecology, physiology, Biomedicine, and tissue culture applied.
Director
H. M. Jamil,  Fakultas Sains dan Teknologi, UIN Sumatera Utara Medan, Indonesia
Editor in Chief
Husnarika Febriani, Prodi Biologi, Fakultas Sains dan Teknologi UIN Sumatera Utara Medan, Indonesia.
View Journal | Current Issue | Register
Komunikologi: Jurnal Pengembangan Ilmu Komunikasi dan Sosial
Jurnal Program Studi Ilmu Komunikasi
View Journal | Current Issue | Register
1 - 4 of 4 Items